by Yasir Nisar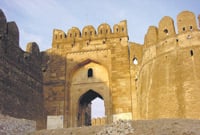 Sir Olaf Caroe, the Governor of North-West Frontier Province (1946), described his initial impression of Rohtas Fort in the following words "There it stands, sprawling across a low rocky hill a few miles north of Jhelum. Its great ramparts growing from the cliff like the wall of China, looking north a sandy stream bed to the low hills of the salt range and beyond them, to the snows of Pir Panjal. The circumference is large enough easily to hold a couple of Divisions of troops. As you approach the fort, the crenellations look like ominous rows of helmeted warriors watching you with disapproval. It is an awe-inspiring sight."(from 'The Future of Great Game' by Peter John Brobst).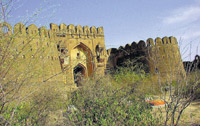 Though not known for any special or historical event, Rohtas is still known all over the world for its grandeur and sheer size. Spread over in a perimetre of alomost 6 kilometres, the significance of the fort can be gauged from the fact that UNESCO has included it in the world heritage list — one of the reasons being its exceptional Muslim military architecture of central and South Asia, which blends architectural and artistic traditions from Turkey and the Indian subcontinent. It thus became a model for Mughal architecture and its subsequent refinements and adaptations.
Though a classic example of Muslim heritage, the approach to Rohtas Fort was pathetic till a few years ago with the road in real bad shape. I guess we owe special thanks to the distrcit government for now finally there is a bridge over the River Gahan which earlier people had to cross on foot. The fort is approachable from the main highway — GT Road — if one takes the right turning from Deena, which is a railway station as well as one of the busiest bus stops about 100 kilometres from Islamabad. At the time of Sher Shah Suri, the GT Road used to pass by the fort but during the British period it was shifted to its present route. That is why one has to make this detour to reach the fort.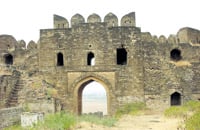 If you are planning to visit a historical place or just want to go for a day's picnic, Rohtas Fort is a safe bet. Whenever you decide to go choose a day when the sky is clear — to get a better idea of the grandeur of the fort. Take with you plenty of water and wear some sensible shoes as there is a lot of walking, and don't forget to take a bottle of sun block. You will enjoy and want to go back, just like I do.
Also published by the News on Sunday